Prevail or Fail: Transgender Cult Under Fire
Since 2015, the cult of transgenderism has exploded, with more than 100 so-called "pediatric gender clinics" now in operation that have been chemically and surgically "transitioning" children with impunity. More recently, however, the facade of "gender affirming care" has begun to crack under the burden of its ugly reality.
Many are likely aware of the recent publicity surrounding whistleblower Jamie Reed, and her January 26 article in The Free Press describing the atrocities taking place at one of these gender clinics, the Washington University Transgender Center at St. Louis Children's Hospital. Reed describes herself as "a 42-year-old St. Louis native, a queer woman, and politically to the left of Bernie Sanders." But during her four years as a case manager at the center, she witnessed ever-increasing numbers of youth, mostly girls, "many with no previous history of gender distress," declaring out of the blue that they were transgender and demanding "immediate treatment with testosterone."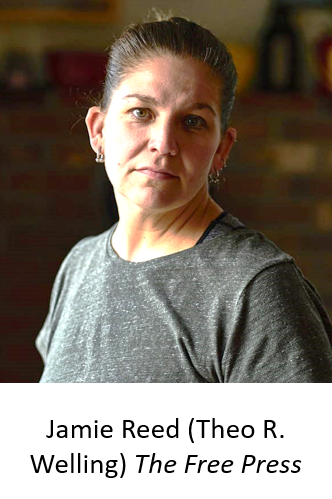 Despite the fact that these children often suffered from physical maladies such as obesity, and psychological problems including depression, eating disorders, anxiety, and autism, Reed noticed that the doctors were quick to assert that their gender identities "reflected something innate," and were therefore put ahead of their other serious issues in importance. Reed disclosed that these girls "only had to see a therapist once or twice before getting the green light" for testosterone prescriptions.
Reed's testimony revealed the serious side effects many young patients experienced as a result of the drugs used to "treat" them. "Our patients were told about some side effects, including sterility," she wrote. "But after working at the center, I came to believe that teenagers are simply not capable of fully grasping what it means to make the decision to become infertile while still a minor."
She described a 15-year-old male patient who was given bicalutamide, a medication used to treat metastatic prostate cancer. One of its side effects is that "it feminizes the bodies of men who take it, including the appearance of breasts." Reed explained: "The center prescribed this cancer drug as a puberty blocker and feminizing agent for boys. As with most cancer drugs, bicalutamide has a long list of side effects, and this patient experienced one of them: liver toxicity. He was sent to another unit of the hospital for evaluation and immediately taken off the drug. Afterward, his mother sent an electronic message to the Transgender Center saying that we were lucky her family was not the type to sue."
Some patients treated at the center had endured severe trauma and were suffering from serious psychoses including schizophrenia, bipolar disorder, PTSD, and more, and were already taking, as Reed described it, "a fistful of pharmaceuticals." But this did not stop the center's medical personnel from pursuing gender transitions for these very troubled children.
Disregard for parents' rights
While some parents were either themselves too distressed or merely went along with their children's whims and the forceful recommendations of the center's doctors, others were left in the dark or their wishes trampled. As Reed described: "In Missouri, only one parent's consent is required for treatment of their child. But when there was a dispute between the parents, it seemed the center always took the side of the affirming parent.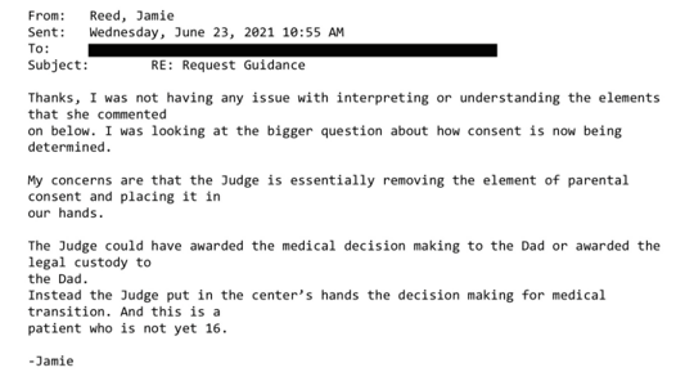 "My concerns about this approach to dissenting parents grew in 2019 when one of our doctors actually testified in a custody hearing against a father who opposed a mother's wish to start their 11-year-old daughter on puberty blockers. Reed found the mother "quite disturbing" and felt that the child "didn't meet the criteria" for gender transitioning. Nonetheless, "after the hearing where our doctor testified in favor of transition, the judge sided with the mother."
Reed described another girl who later regretted having had a mastectomy, and a young male who was linked to a "gender-affirming" therapist without his parents' knowledge. Predictably, when Reed objected to these outrages, her performance reviews began to suffer and she eventually transferred to another part of the Washington University School of Medicine. Thus far, she has not been fired.
Attorney General gets involved
On January 26, Reed sent a letter to Missouri Attorney General Andrew Bailey asking that he "please accept this correspondence as a formal complaint concerning questionable medical practices and treatment of minors" by the Pediatric Transgender Center at Washington University School of Medicine at St Louis Children's Hospital.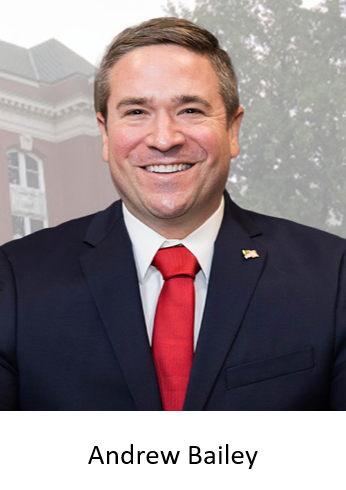 Her letter recounted the "lack of informed consent" among parents who are not told of the adverse reactions to drugs, the "intentional abuse and intimidation of parents who do not fully support medicalization and/or gender altering treatment of their children," and the fact that minor patients are seen at the center "without the knowledge of all legal guardians" that the visits are occurring.
Reed further wrote that directors and administrators "created a culture of 'get on board or get out' and regularly intimidated Center staff in an attempt to silence ethical and medical concerns being raised by staff."
As a result of the information and "sworn affidavit" she provided, Attorney General Bailey's office opened an investigation of the center. Several mainstream media outlets reported this news, including the New York Post, Fox 4 News Kansas City.com, and others.
The attorney general released the following statement:
As Attorney General, I want Missouri to be the safest state in the nation for children. We have received disturbing allegations that individuals at the Transgender Center at St. Louis Children's Hospital have been harming hundreds of children each year, including by using experimental drugs on them. We take this evidence seriously and are thoroughly investigating to make sure children are not harmed by individuals who may be more concerned with a radical social agenda than the health of children.
Sen. Josh Hawley opens investigation
On February 9, Missouri's Senior Senator, Josh Hawley, announced that his office would also investigate the center. In a letter to the university's chancellor and hospital leadership, Hawley demanded that "the medical records of minors referred to the center be handed over."
Hawley's letter cited Reed's testimony in The Free Press. His letter reads in part:
The whistleblower reported that the Center's "working assumption" was to pursue aggressive and early intervention, despite research indicating that the vast majority of children with cross-gender identification desist by puberty... This report builds on recent revelations that the Center counseled educational authorities to conceal information from parents regarding their children's cross-gender identification. On January 17, 2023, news reports indicated that Parkway School District in St. Louis County has been concealing students' "chest-binding" from their parents—and that the Center encouraged such concealment. Encouraging teachers to lie to children's parents is unconscionable. If even a fraction of the whistleblower's new allegations is corroborated, the Center should be immediately shut down.
Hawley's office is demanding an immediate response to an in-depth list of questions, keeping the responses "consistent with federal privacy protections for patients." The questions call for information on the number of minors referred to the center who have been prescribed puberty blockers, cross-sex hormones, and any complications resulting from these treatments, as well as how many children eventually desist and return to their birth gender.
The Senator also wants an "exhaustive accounting" of guidance provided by the center or its personnel to "third-party stakeholders in response to inquiries regarding youth gender transition in contexts where parents or guardians are deemed insufficiently supportive of transition."
The senator's office will further delve into the "sources of funding, federal and non-federal, that it receives for gender-related treatments," including insurance payments, grants, and institutional or individual donations.
Many observers hope these investigations shed sufficient negative light on Washington University's Pediatric Gender Center to force its permanent closing.
Want to be notified of new Education Reporter content?
Your information will NOT be sold or shared and will ONLY be used to notify you of new content.


Return to Home PageEducation Reporter Online - February 2023