Education Briefs
Moms for Liberty has introduced its first ever School Board Candidate Campaign Kit. Calling them "revolutionary," the organization created the kits as part of its advocacy for freedom-minded parents and citizens to become active in local politics, particularly by running for seats on their district school boards.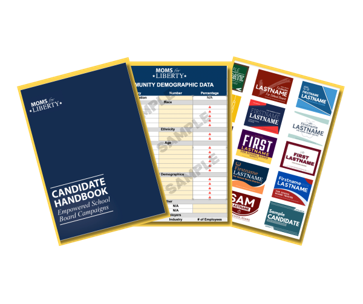 Executive Director Marie Rogerson says that of all the school board races the organization endorsed in 2022, "more than half of all our first-time candidates won, which is an unprecedented win rate." She adds that the new campaign kits contain information based on lessons learned from the 2022 races. Each kit contains a Candidate Handbook, which is a "How-To" guide that "covers everything from building a platform and fundraising to voter contact and working with the media." The Campaign Workbook is "a practical, hands-on resource that assists candidates in creating a campaign plan and executing their campaigns effectively." Finally, the kits include a collection of "design templates" organized specifically for school board candidates, making the creation of logos, cards, mailers, and other items easier to do. Moms co-founders Tina Descovich and Tiffany Justice say the new toolkits will be "a game changer" for candidates, noting that, as former school board members themselves, they would have welcomed such assistance during their campaigns. The kits are available free of charge to all members of Moms for Liberty. With nearly 300,000 members in 44 states, the kits should be a popular item throughout the next election cycle. Persons interested in running for their local school boards may want to consider joining the organization and availing themselves of these materials.
The California Teachers Association (CTA) is labeling local school board members "extremists" because they support telling parents about their kids' transgenderism. According to Fox News, the union issued a statement titled "Elections Matter: Defending Schools Against Extremists," which reads in part: "In Orange and communities including Chino Valley and Temecula, educators are rising together with communities to defend their students, schools, and each other from extremist board members and their politically driven policies that are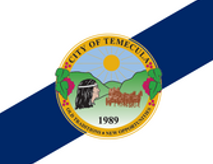 diverting district resources and putting safety at risk." The union's proverbial nose is evidently out of joint because the Temecula Valley Unified School District is the latest district in the state to approve a parental notification policy whereby schools "are required to inform parents if their children identify as a different gender or use different pronouns from their biological sex." Notification is also required if school personnel become aware that a child is being bullied or experiencing suicidal thoughts. The Murrieta Valley Unified School District adopted a similar rule, which opponents labeled a "forced outing policy," and the Orange Unified School District is in the process of doing so as well. Orange County Department of Education board member Mari Barke told Fox News: "We are protecting kids, and parents have to be involved in their kids' education. There is no constitutional right that gives kids privacy from their parents. And, honestly, we are not outing these kids. These kids are out to everybody but the parents, and nobody loves their kids more than parents." In a related move also reported by Fox, Gov. Gavin Newsom's administration "fined the Temecula school district $1.5 million for rejecting a state-approved social studies curriculum that included a biography of gay rights activist Harvey Milk. The board voted to ban the curriculum due to concerns about Milk's alleged romance with a 16-year-old boy and amid complaints that parents "had not been adequately consulted about the curriculum." Unfortunately, the Temecula school board approved the curriculum under threat of the fine. Rejecting the curriculum would have left the district with a textbook published in 2006, which did not comply with a 2011 state law requiring schools to teach about "the historical contributions of gay, bisexual and transgender Americans."
Despite onerous laws, edicts, and policies coming out of Sacramento, some California Democrats say they reject the state's gender policies. Democrat Erin Friday told Fox & Friends that "the party is not listening to us. They want to frame this as right versus left, and this is about child safeguarding. It has nothing to do with party affiliation whatsoever."

She continued: "There's not one California elected official who's a Democrat that is standing up for kids, not one." These parent activists accuse Democrat politicians in California of ignoring their constituents "who are against the mutilation of children, who want to know what's happening to their children while they're at school. They don't want boys in girls' sports... these are just facts." Friday's daughter was secretly transitioned by her public school, but Erin found out in time to rescue her child, which drove the issue home and prompted her to seek out other like-minded parents. "Approximately 80 percent of the members in Friday's group are Democrats," Fox reported, "[they are] representative of a silent faction whose voice often goes unheard." Friday points out that this issue is affecting both Democrat and Republican families. "Parents are losing their rights regardless of what party they're from."
A new group called Protect Kids California has filed three citizen-initiated ballot measures to enact laws related to gender in schools, sports, and healthcare. The first initiative would require schools to notify parents or guardians when a student requests to change their gender identity from that listed in the student's permanent record. Parental notification would be required within three days of the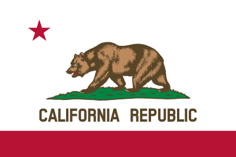 student's request. Schools must receive written approval from a parent or guardian before they would be authorized to address the student by a different name or pronouns, allow the student to participate in opposite-sex sports or use facilities of the opposite gender, or allow access to "body-modification clothing or appearance-altering materials for the purpose of appearing as a gender different than the one listed on the student's record." The second initiative would prohibit biological males, "defined as persons with XY chromosomes, from competing in female, defined as persons with XX chromosomes, sports in public schools and universities." This law would repeal current language that allows students to participate in sports and use facilities that do not correspond to the gender listed on their birth certificates. Finally, the third initiative "would prohibit healthcare professionals from prescribing hormones or performing procedures that would stop or delay puberty or alter a minor's appearance for the purpose of changing a person's gender identity." Jonathan Zachreson is the founder of Protect Kids California and a Roseville City Schools board member. He believes these "are common sense issues, but that, unfortunately, California is controlled by an out-of-touch legislature that refuses to engage in protecting parents or kids." To qualify for the 2024 California State ballot, 546,651 valid signatures must be collected for each initiative. Similar gender-related initiatives are in progress in other states, including two that have been cleared for circulation in Missouri.
Want to be notified of new Education Reporter content?
Your information will NOT be sold or shared and will ONLY be used to notify you of new content.


Or, do you need a break from email notifications?



Return to Home PageEducation Reporter Online - September 2023